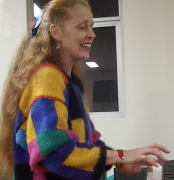 Sarah de Jong was born in Christchurch, New Zealand, in 1952 and moved to Australia in 1961. She trained at the Melbourne State College studying music and drama, then at the Melbourne Conservatorium of Music with Brian Howard and Barry Conyngham. In 1986 she participated in the Australia/New Zealand Professional Choreographers and Composers Dance Course.
Since 1978 Sarah has played an important role in Australia crossing artistic boundaries while creating music for theatre, dance, radio and film. She has worked in many musical forms and takes great pleasure in exploring disjointed dancing rhythms and unexpected harmonies underneath lovely melodies. Her music is particularly noted for its ability to intensify emotions created in texts and in performances and she find collaborating with artists in different fields very rewarding. Kurt Weil's music and his ability to survive while writing music for theatre has been a major influence on her, when she first learned of him in 1969 she decided to see if it was possible for her to do the same in Australia.
Several theatre pieces she has scored have toured Australia, Europe, England, Japan, Venezuela and New Zealand and she has twice worked in Hanoi, Vietnam composing dance theatre pieces. Her most recent work in Vietnam for the Vietnam Opera Ballet Theatre Company was titled Through the Eyes of the Phoenix (1997) and scored for an orchestra which also included Vietnamese instruments. She particularly enjoys composing for strings, saxophone, clarinet, piano, percussion and voice in various combinations, as well as instruments such as koto, theorbo, glass harmonica and dan bau.
Notable scores include the music theatre work Portrait of an Invisible Man (1993) for koto, voice, marimba, tuned and untuned percussion, the films Flirting (1989) and Sparks (1989) both winners of Australian Film Institute awards for Best Film and the radio plays Summer Of The Aliens (1989) and The Lights of Jericho (1993), both of which won the Prix Italia.
Almost always working as a freelance composer there have been many commissions. Some of them include: the Sydney Theatre Company – Black Medea (2000) for string trio, Salt (2001) for violin and viola; Theatre of Image – The Empty Lunch Tin (1999) for string trio, The Happy Prince (1992) for electronic instruments; Australian Dance Theatre – Fantastic Toys (1986) for tape, sampler and electronic instruments; One Extra Company – Drowning In A Sea of Dreams (1994) for viola solo, piano and electronic instruments.
CD recordings of many of de Jong's works are available for sale from the composer.
http://www.australianmusiccentre.com.au/artist/de-jong-sarah